Sehatnews – These include the Microsoft Xbox Series X (1 TB) for 499.99 euros , the Xiaomi Redmi Note 10 Pro for 269.99 euros , Miele vacuum cleaners for 179.99 euros and much more!
And best of all: you even get coupons of up to 150 euros for your next purchase on the promotional products when you buy them. There's also a great iPhone 14 Pro sweepstakes .
We have all the info.
The Xiaomi Redmi Note 10 Pro Is Now Super Cheap At Saturn
Normally the birthday child gets presents, but SATURN turns the tables on the 15th anniversary!
You not only get great bargains in all departments, but also coupons on top when buying various promotional products. So you as a customer benefit twice over.
Also: With a bit of luck, you have the chance to crack the SATURN vault directly in the store and win an Apple iPhone 14 Pro or many other prizes.
Simply scan the QR code on site and you will receive a key code, which in the best case scenario will open the safe.
We show you five strong anniversary offers.
Microsoft Xbox Series X for 499.99 euros + 30 euro coupon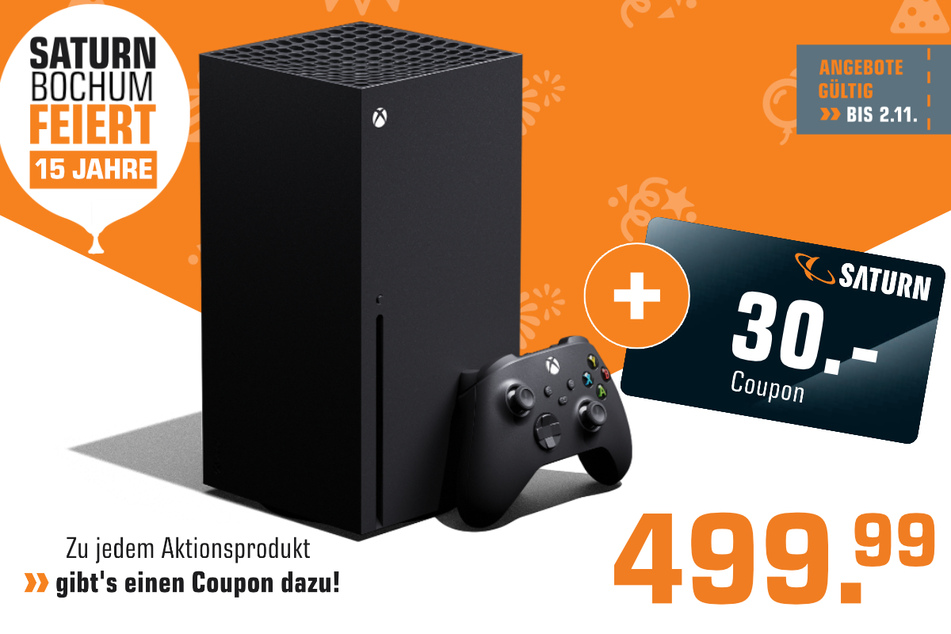 Ideal for cold autumn and winter days and great as a Christmas present! The Microsoft Xbox Series X (1TB) .
The popular console is available for 499.99 euros and you get a coupon of 30 euros on top.
8 cores at 3.8 GHz and 12 teraflops of computing power as well as 16 gigabytes of RAM bring you by far the fastest Xbox console of all time.
Paired with a custom-made 1 TB SSD hard drive, long loading times are now a thing of the past.
In addition, games are particularly high-resolution. You experience games and multimedia content in true 4K resolution. Resolutions of up to 8K are even possible.
Xiaomi Redmi Note 10 Pro for €269.99 + €30 coupon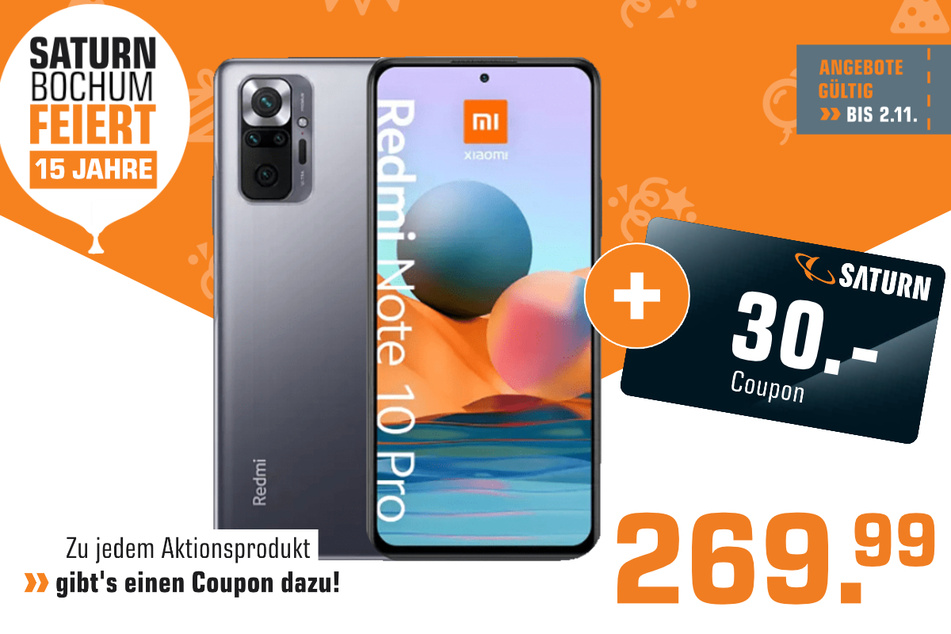 With the Xiaomi Redmi Note 10 Pro you get a strong smartphone at a low price.
Because you only pay 269.99 euros. With the 30-euro coupon that you get with the purchase, you can get a protective case or other accessories on site.
The Xiaomi smartphone will really impress you with the 6.67 inch AMOLED display with 120 Hertz.
The device makes professional photographers really jealous, because on the back there is a main camera with 108 MP, a wide-angle camera with 8 MP and a macro camera with 5 MP.
You can take selfies with the 13 MP cam and the 5,020 mAh battery lasts up to 12 hours!
The lightning-fast Qualcomm Snapdragon 732G processor guarantees professional performance for work, stream and gaming.
Sony headphones for €274.99 + €30 coupon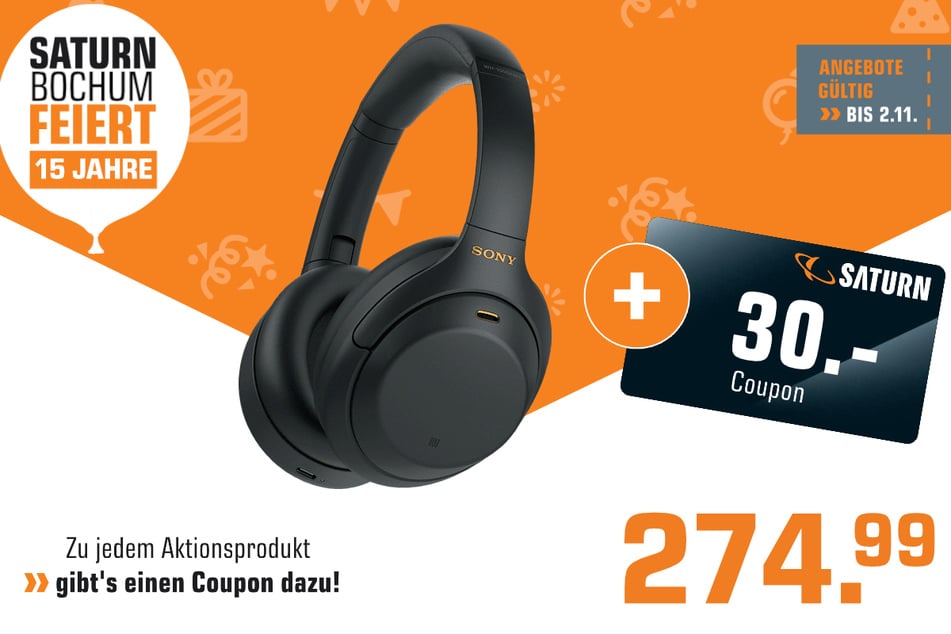 A really brilliant highlight for the anniversary is the Sony WH-1000XM4 over-ear headphones .
You can get the headphones for 274.99. Here, too, there's an additional 30 euros in the form of a coupon.
It supports active noise canceling. Ambient noise is filtered out – you only hear what you really want to hear!
The Ambient Sound Control recognizes movement patterns, such as walking or tram rides, using sensors in the smartphone.
The air pressure sensor ensures optimal noise reduction when flying. So you can sit back, relax and enjoy your favorite music. The intelligent sound technology automatically ensures tailor-made listening pleasure.
Miele vacuum cleaner for €179.99 + €30 coupon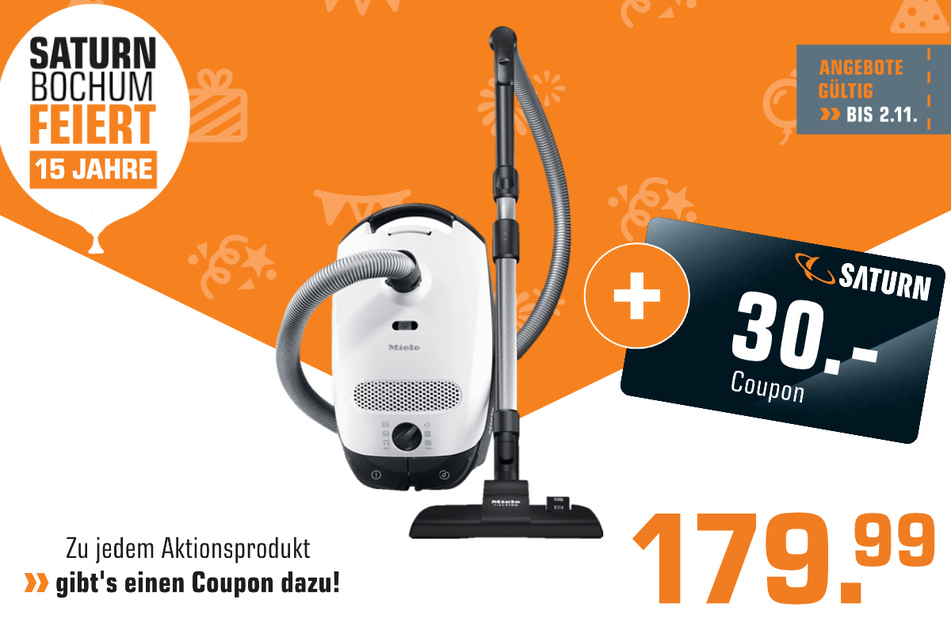 Of course, you will also get practical devices for the anniversary at a particularly low price and including a coupon.
For example the Miele vacuum cleaner Classic C1 Flex for only 179.99 euros (plus 30 euros coupon).
You can simply declare war on dirt and grime with it.
With a suction power of 800 watts and an action radius of 9 meters, you can whirl through the whole apartment and also get into the furthest corners.
You also get an upholstery nozzle, a crevice nozzle and a suction brush when you buy it.
With a maximum noise level of 78 dB, it is also ear-friendly.
DeLonghi coffee machine for 999 euros + 150 euro coupon
Also on offer is the DeLonghi Ecam450.55.G Eletta Explore fully automatic coffee machine .
You only pay 999 euros for the fully automatic coffee machine and you also get a coupon of 150 euros.
This is more than a simple fully automatic coffee machine, because the device also prepares refreshing drinks for you.
A tap of the finger on the 3.5 inch TFT touch display is enough and one of 40 pre-installed hot or cold drinks is available.
40 not enough? Then you can have over 100 other specialties prepared for you via the app. With the latte crema cool system, you can froth milk or plant-based alternatives for cappuccino and co.!
But beware: The offers are only valid until Wednesday (November 2nd), while stocks last and only at SATURN in Bochum.
This article has been published on the website : tag24.de